OBT in Crossout
Join CROSSOUT, the post-apocalyptic MMO Action game! Craft your unique battle machines from dozens of interchangeable parts, ride them directly into combat and destroy your enemies in explosive PvP online battles!
Available on PC, PlayStation®4 and Xbox One.

Unique vehicles, crafted by the players.

Complete freedom of creativity.

Trading options between players.

Choose your own battle strategy!
Star Conflict Heroes is a fun third person game in the sci-fi RPG genre where each pilot can join the epic battle with aliens and their minions.
Blaze Rush is a dynamic arcade racing survival game with no health, no levelling and no brakes!
Star Conflict is an MMO game in the space simulator genre.
reviews, releases and news
Cult game for thousands of gamers
Come alone or with friends, and earn resources for a unique weapon!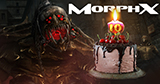 It's been 10 years since the decisive battle with the Swarm.